11 High Cost Inspection Traps You Should Know About Weeks Before Listing Your Greater Toronto Home | Condo For Sale
According to industry experts, there are over 33 physical problems that will come under scrutiny during a home inspection when your home is for sale.
Executives Looking in All Areas For Rent-To-Own Nice Home.
Call Now! [416] 423-2089 / [416] 275-2089.
A new report has been prepared which identifies the most common of these problems, and what you should know about them before you list your home for sale.
Whether you own an old home or a brand new one, there are a number of things that can fall short of requirements during a home inspection. If not identified and dealt with, any of these 11 items could cost you dearly in terms of repair. That's why it's critical that you read this report before you list your home. If you wait until the building inspector flags these issues for you, you will almost certainly experience costly delays in the close of your home sale or, worse, turn prospective buyers away altogether.
In most cases, you can make a reasonable pre-inspection yourself if you know what you're looking for. And knowing what you're looking for can help you prevent little problems from growing into costly and unmanageable ones.
To help homesellers deal with this issue before their home is listed, a FREE report entitled "11 Things You Need to Know to Pass Your Home Inspection" has been compiled which explains the issues involved.
Order this report NOW to learn how to ensure a home inspection doesn't cost you the sale of your home.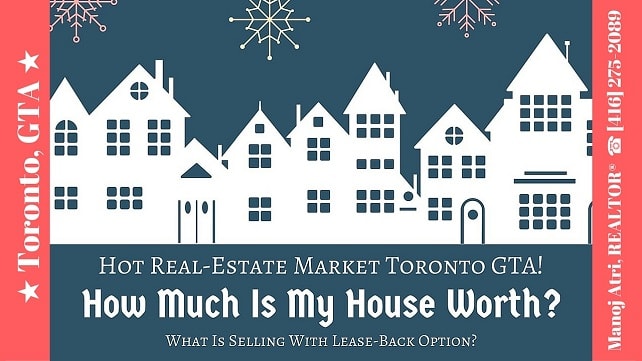 Want to know your house value but don't want to call an agent? 
Visit open houses, study carefully neighbourhood listed properties. 
Check out lot size, number of bedrooms, number of washrooms, 
basement finished or not, parking spaces, square footage of the property. 
Number of stories, separate entrance to basement units, potential for rentals.
Age of the property, swimming pool, location along with condition of the house.  
Days on the market for the property, both listing and selling prices etc. 

Next study similar properties to yours available in your district. 
Supply and demand, market trends, check home price index etc. 
Review Toronto Real Estate Board Market watch for prices in your area.
Read various online articles to update yourself with market activities. 

Once ready, feel free to call / email for a no obligation CMA.

Act Now:
1. Dash For Cash: Buy with Zero down payment / Cash Back + Get Money for Renovation OAC, Certain Conditions Apply.


2. Call Now For: Scintillating Mortgage Rates | Pre-requisite: Buyer Representation Agreement.
3. Click Below For Viewing TREB MLS® System Homes For Sale Listings that interest you:
Request Below For Bank Foreclosure Listings:
Power Of Sale Toronto