Find Out For FREE The CMA of Your
Greater Toronto Area Home | Condo
To receive a FREE Comparative Market Analysis [CMA]
of your Home, just fill out the adjoining form.
Executive looking for a Lease-To-Own nice home.
We Buy Houses, Any Area, Any Condition.
Call Now! [416] 423-2089 / [416] 275-2089.
Kindly in comments section clearly state for which address you want the information.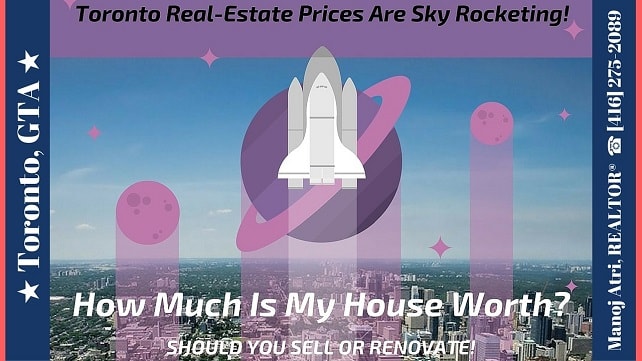 Do you know that Home Values are up? 
Real estate is an investment. 
Real-Estate Market has cycles. 
Calgary used to be soaring with property values a few years ago. 
Know your property market value and be aware of market trends. 
Think like an investor and act prudently. 

Lenders are more than willing to provide home equity line of credit. 
Get the renovations done which you have been holding off for years.
If enough equity you can purchase another property as an investment. 
Talk to various professionals, seek their insights.
In the end remain with the market i.e., take advantage, Act Now!  
Otherwise you will blame yourself later, why didn't i act then. 

Call / Email me to sit over a cup of coffee and view all alternatives.
For GTA Housing Prices Click Below:


Discern Toronto Real Estate Board Market Watch
Act Now:
1. Dash For Cash: Buy with Zero down payment / Cash Back +
Get Money for Renovation OAC, Certain Conditions Apply.


2. Call Now For: Scintillating Mortgage Rates
Pre-requisite: Buyer Representation Agreement.
3. Click Below For Viewing TREB MLS® System
Homes For Sale Listings that interest you:
Request Below For Bank Foreclosure Listings:
Power Of Sale Toronto