FREE Over-The-Net Home Evaluation
Knowing what your home is worth is important information to have if you are thinking of selling.
I Buy Houses, Any Area, Any Condition
Been Transferred, Need To Move, Behind on Payments
In Foreclosure, Need To Sell,
Moving Out of State, Need Extra Money Now.
Call Now! [416] 423-2089 / [416] 275-2089
Using the information you submit to us, we will conduct a thorough comparative market analysis by searching the database of all homes listed or sold in your area.
With this current market data, we will be able to determine what your home might sell for if you decided to put it on the market.
There is no cost or obligation for this valuable service.
How Much Is My House Worth?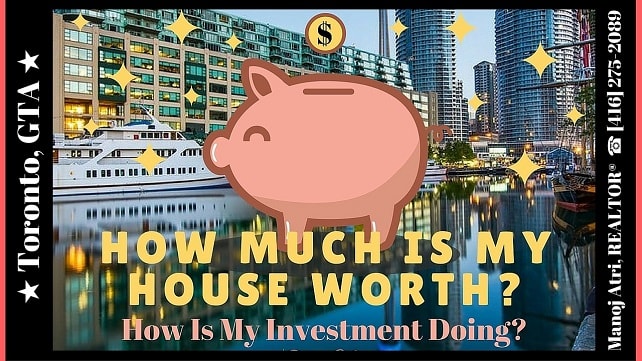 Want to know what your house is worth in today's hot real estate market?
CMA can facilitate you with an independent and unbiased assessment of what
your house might be worth in today's sizzling real estate market.
The MLS® Home Price Index [HPI] is not designed
to predict the property value of the house.
 
Get a FREE home value evaluation and comparative market analysis
today to help you find out just how much your house
is worth in today's soaring prices in Toronto GTA.
Get more info on what factors might affect the market value of your property
other than just a regular house price inflation.

The present market value of a property is determined
by a number of different criteria, each of which can influence
how much your home is worth in today's skyrocketing real estate.
The CMA will give you an idea of how much your house is worth and how the
value has changed over the past year based on other similar sold properties.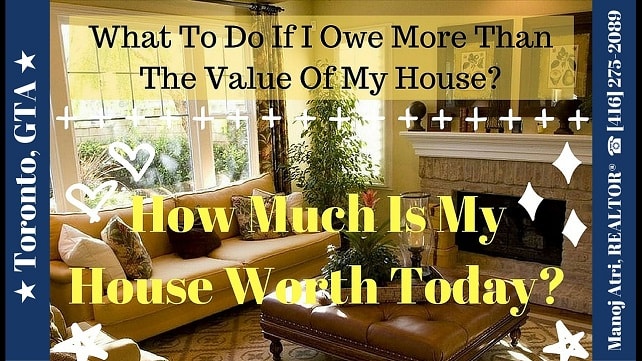 Interested in a FREE full detailed comparative market value of your property?
Contact me today for a FREE no obligation comprehensive market evaluation
of your home to find out what your house could be worth in this hot market.
An accurate market evaluation of your house should be based on its
true market value rather than your expectations and friendly inputs.
 
Never just look at a home price index for individual property information
as they are too average or mean value and by the time you get
the data the market may have turned in the opposite direction.
Try two or three real estate agents to get an average idea of price,
services and your comfort level before you decide to list your property.
 
Please call / email me today to obtain a FREE Property Market Valuation
that will put you in the know how of what is best for you.
Whether you're thinking of listing your house or are just curious
about the value of your home, fill the adjoining form to request a FREE
estimate on finding out how much your house is worth in today's market.


Have you ever wondered if your neighbour's property is worth more than yours?
Everyone is interested in knowing, how is my investment doing.
Call me for a tour of your property for a completely
FREE comprehensive analysis to your property value.
When you're selling your house, setting the right listing price is the key.
My aim is to achieve the best possible price
for your house in a timeframe that suits your plans.
 
Signs are pointing to another great year for Home Sellers,
according to real estate experts "Seller is King".
Determining the correct value can be even more difficult
to establish by yourself if your home is unique.
 
The Toronto GTA real estate market has many home sellers
asking themselves should I sell my house or renovate,
you can also try another alternative sell with lease-back option.
Still wondering "What Is My House Worth," just simply enter your address in
the adjoining form and receive a full FREE no obligation CMA of your property.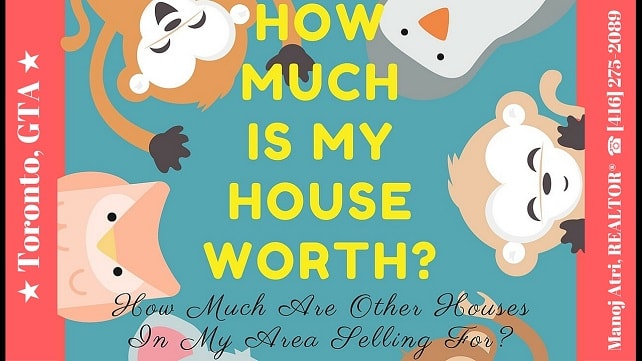 How much are other houses in my area selling for?
Your Property is one of the most valuable possession you own,
you will blame yourself later if you don't get it right.
Every property has an numerous hidden value and by picking the
right real estate expert you can expect your highest investment returns.

Home values are based on area real estate sold prices, public records of
area homes assessed values, supply and demand, condition of property etc.
Home Price Index provides home price trends in a given region,
derived from average and median home price calculations.  

Your unique location, condition of property, show ability etc.
helps to facilitate how much your house is worth.
Identical properties in different market areas may sell differently.
Call / Email me for a FREE full detailed CMA.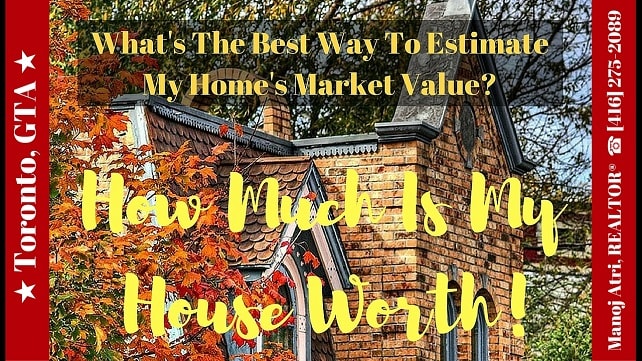 What's the best way to estimate my home's market value?
Before you're listing your home, be sure to review for the
added costs involved most important mortgage penalty amounts.
One of the most important decisions when listing your home
should be what price to list at that will get you the most traction.

With soaring Toronto GTA real estate, also review that
prices in many GTA suburbs are also continuously on the rise.
You can actually visit area open houses and get a
true sense of their condition, location, size and overall show ability.

Preparing your home for sale involves much more than a For Sale sign,
are you aware of your mortgage penalty amounts calculations i.e.
interest rate differential / 3 months interest rate.
If you are selling and buying another property,
you may be able to port your mortgage.