GTA: For Sale By Owner [FSBO] 
How to Sell Your Home Without an Agent!
 We Buy Houses, Any Area, Any Condition:
For More Info Visit: Guaranteed Offer
Learn 10 Inside Secrets to Selling Your Greater Toronto Home Yourself.
If you've tried to sell your home yourself, you know that the minute you put the "For Sale by Owner" sign up, the phone will start to ring off the hook. Unfortunately, most calls aren't from prospective buyers, but rather from every real estate agent in town who will start to hound you for your listing.
Executive Looking for a Rent-to-Own Home.
Call Now! [416] 423-2089 / [416] 275-2089.
Like other "For Sale by Owners", you'll be subjected to a hundred sales pitches from agents who will tell you how great they are and how you can't possibly sell your home by yourself. After all, without the proper information, selling a home isn't easy. Perhaps you've had your home on the market for several months with no offers from qualified buyers. This can be a very frustrating time, and many homeowners have given up their dream of selling their home themselves.
Home not Selling? We can Help!
We Buy and Lease Homes.
Call Now! [416] 423-2089 / [416] 275-2089.
But don't give up until you've read a new report entitled "Sell Your Own Home" which has been prepared especially for homesellers like you. You'll find that selling your home by yourself is entirely possible once you understand the process.
Tired of Monthly payments?
Call Now! [416] 423-2089 / [416] 275-2089.
Inside this report, you'll find 10 inside tips to selling your home by yourself which will help you sell for the best price in the shortest amount of time. You'll find out what real estate agents don't want you to know.
Stop Foreclosure! Behind on Payments?
Don't lose your Equity.
Call Now! [416] 423-2089 / [416] 275-2089.
Order this report NOW to learn how you really can sell your home yourself.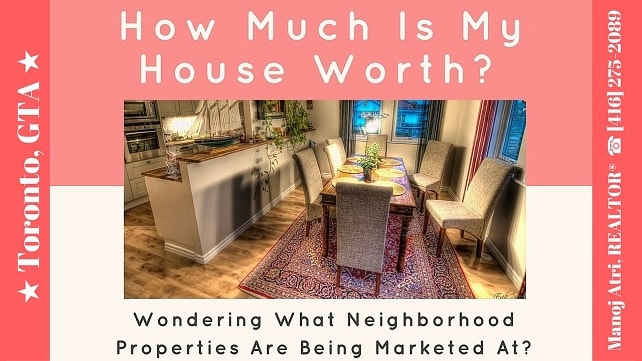 Why Selling your Own House seems to be a challenge? 
For Sale By Owner?
Firstly it is better for you to use a professionals. 
You may save on commission, but you have limited exposure.
Limited exposure means little or no traction of your property and you may be 
fighting with Buyers instead of Buyers competing with each other to buy your property. 
Remember you are not an expert. A smart agent is an asset not a liability.    

Now let's say you have still decided to go on your own. 
Get a FREE home evaluations done by two or three agents.
Spend a little and get a home inspection done. Try to fix whatever you can. 
The inspection report will come in handy when Buyers want to bring your price down. 
Call your lender and ask about your mortgage penalty, if you still owe. 
Get it in writing as lenders are notorious for last minute surprises.
Hire a professional to do your photographs for a small fee.  
Great photographs and virtual tours are a game changer. 
Post them on various social media sites. Post regularly. 

Go online and try to read a lot on how to sell. 
Prepare a thorough check list and make a plan of action. Hire a lawyer.  
Make sure you answer all the queries honestly and truthfully. 
Remember any short cut, lying and hiding things will come back. 
Buyers can sue you later even after the sale if you had lied.   
Any hidden, latent defects seek lawyer advice and disclose fully. 
Always have a seller lawyer review condition in the offer. 
Be very careful if you are doing an open house. 
There are many incidents of theft at open houses. 

Had a change of mind, call me the expert Toronto GTA selling agent. 
Will guide you all the way and get you fast and top dollars for your property.