27 Quick and Easy Fix Ups to Sell Your GTA Home Fast and for Top Dollar!
Because your Greater Toronto Home may well be your largest asset, selling it is probably one of the most important decisions you will make in your life.
Home not Selling? We can help! We Buy and Lease Homes.
Call Now! [416] 423-2089 / [416] 275-2089.
And once you have made that decision, you'll want to sell your home for the highest price in the shortest time possible without compromising your sanity. Before you place your home on the market, here's a way to help you to be as prepared as possible.
To assist homesellers, a new industry report has just been released called "27 Valuable Tips That You Should Know to Get Your Home Sold Fast and for Top Dollar." It tackles the important issues you need to know to make your home competitive in today's tough, aggressive marketplace.
Through these 27 tips, you will discover how to protect and capitalize on your most important investment, reduce stress, be in control of your situation, and make the most profit possible.
In this report you'll discover how to avoid financial disappointment or worse, a financial disaster when selling your home. Using a common-sense approach, you get the straight facts about what can make or break the sale of your home.
You owe it to yourself to learn how these important tips will give you the competitive edge to get your home sold fast and for the most amount of money.
Order your free report NOW.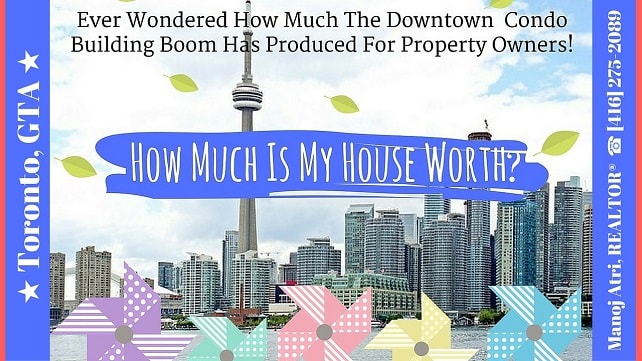 Why are the Property Values sometimes way apart when seeking 
Home Worth from different Real Estate Agents?
This is very tricky as mostly Sellers want to work with 
Agents who are ready to give them the highest value.
Hence some agents in order to get the listing, quote unrealistic 
amounts, meeting home sellers expectations or whims.
Sellers then sit on the listing and agents end up wasting their time. 

It's a two way street. 
For Home Owners / Sellers, always review two to three agents for CMA. 
Ask for referrals from family, friends, colleagues etc. 
Go online if you are not yet ready for a no obligation free evaluation.
Review listings in your neighbourhood. 
Carefully study listed price, sold price, condition of property, 
renovations, square footage, location etc. 

Once you receive the CMAs apart from the listing price, 
review the marketing plan of the agent. 
Remember the most important thing is the exposure. 
One of the reasons you are listing the property is to get ample exposure.
The listing price should be addressed in a way to get you maximum traction. 
To conclude, do the marketing and listing that gets you multiple offers.
I am an expert in huge exposure and greatest traction.
Act Now.
1. Dash For Cash: Buy with Zero down payment / Cash Back + Get Money for Renovation OAC, Certain Conditions Apply.


2. Call Now For: Scintillating Mortgage Rates | Pre-requisite: Buyer Representation Agreement.
3. Click Below For Viewing TREB MLS® System Homes For Sale Listings that interest you:
Request Below For Bank Foreclosure Listings:
Power Of Sale Toronto