Which of These 7 Costly Home Seller
Mistakes Will You Make?
Are you helping your competitors Sell their Home?
A new report has just been released which reveals 7 costly mistakes that most homeowners make when selling their home, and a 9 Step System that can help you sell your home fast and for the most amount of money.
Home Not Selling? We Can Help!
We Buy & Lease Homes.
Call Now! [416] 423-2089 / [416] 275-2089.
This industry report shows clearly how the traditional ways of selling homes have become increasingly less and less effective in today's market. The fact of the matter is that fully three quarters of homesellers don't get what they want for their home and become disillusioned and - worse - financially disadvantaged when they list their home. 
As this report uncovers, most homesellers make 7 deadly mistakes that cost them literally thousands of dollars. The good news is that each and every one of these mistakes is entirely preventable.
In answer to this issue, industry insiders have prepared a FREE special report entitled "The 9 Step System to Get Your Home Sold Fast and For Top Dollar". This report clearly identifies potential trouble-spots, and lays out an easy-to-follow step-by-step system to help you get the most money for your home.
Order this report NOW to find out how you can get the most money for your home.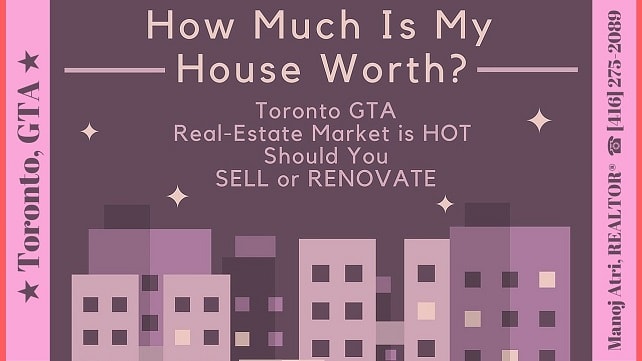 What's Your House Worth?
You may say: "I refinanced six months ago, 
and they also did an appraiser, so I know what my house is worth." 
Yes! they did give you an appraised value but for the purpose of refinance. 
It was an estimate but not the true value of your property. 

I am obsessed with procuring top dollars for my clients. 
Read my client testimonials and seek my innovative ideas for your property. 
As an agent I have access to sold listings info, market trends, 
and numerous years of experience to make an accurate property value. 

Call / Email me to find out how much your area homes sold for,
what factors I will highlight to facilitate your sale, how my 
architectural background can further help and much more…
This is a FREE no obligation service for Home Sellers!

Act Now:
1. Dash For Cash: Buy with Zero down payment / Cash Back + Get Money for Renovation OAC, Certain Conditions Apply.


2. Call Now For: Scintillating Mortgage Rates | Pre-requisite: Buyer Representation Agreement.
3. Click Below For Viewing TREB MLS® System Homes For Sale Listings that interest you:
Request Below For Bank Foreclosure Listings:
Power Of Sale Toronto