Free OREA Book: Get the Most From Ontario Real Estate Association [OREA] FREE Book on Buying Homes For Sale Step by Step Info!
How to Buy Your Home Free OREA Book...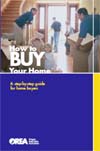 Order the above book "How to Buy Your Home" for FREE from Ontario Real Estate Association by Phone: (416) 445-9910, 1-800-265-OREA (Outside Toronto), or Fax: (416) 445-2644.
Home Buyer | Home Buying | First Time Homebuyer | Toronto Real Estate Guide: You're on your way home.  Whatever your situation, buying a home today is a journey with many twists and turns. The options are more varied than they've ever been. Urban, Suburban or Rural? New Homes or Resale? Apartment / Condominium, Condo Townhouse, Rowhouse, Detached house, Semi-detached, Link, Freehold Townhouse, Duplex and Multiplexes etc? Which is right for you? We take you through the entire process, step by step, from the moment you decide to buy until the moment the movers carry the first box through the front door of your new home.
1. Housing Needs - Helps you figure out exactly what features you want and need in your home. Also, where you want that home to be. We give you information to help you do that.
2. Market Forecasts - Everything that happens in the larger housing market has an impact on your home purchase. We help you track trends in mortgage rates and housing prices and other key indications that tell you the best time to buy.
3. Affordability - So you know what kind of home you want, but can you afford it? Practical information and practical help to help you calculate how you can be house proud without being house poor.
4. Building Your Team - There are a lot of people involved when you buy a home. We provide to help you choose the right people to meet your home buying needs.