Your Path to Success: Book a FREE Toronto Real Estate Agent Consultation!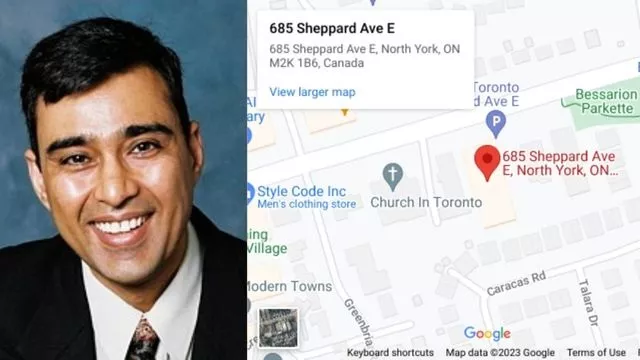 Manoj Atri, REALTOR® with Architectural Background. Maps Source: Google Maps. (2023).
Personalized Solutions for ALL Your Real Estate Needs - Consult Manoj Atri, REALTOR® with Architectural Background!
Are you ready to embark on your path to success in the Toronto GTA real estate market? Look no further than Manoj Atri, a trusted and experienced REALTOR® who is here to guide you every step of the way.
With Manoj Atri, you'll receive a complimentary and personalized consultation tailored to your unique needs and goals. Whether you're buying, selling, or investing in real estate, Manoj's expertise and in-depth knowledge of the Toronto GTA market will provide you with a competitive advantage.
During your free consultation, Manoj will take the time to understand your specific requirements and objectives. He will listen attentively to your preferences, budget, and timeline, and then craft a strategic plan to help you achieve your real estate goals. With Manoj's guidance, you'll gain valuable insights into the current market conditions, pricing trends, and opportunities that are available to you.
As a seasoned professional, Manoj can offer you expert advice on various aspects of the real estate process, including property evaluations, marketing strategies, negotiation techniques, and contract management. He is dedicated to ensuring your success and will work tirelessly to protect your best interests throughout the transaction.
Don't miss out on this opportunity to work with a top-performing REALTOR® who is committed to your success. Book your free consultation with Manoj Atri today and take the first step towards realizing your real estate dreams in the Toronto GTA area.
For First-Time Homebuyers a new FREE Special Report entitled:
"How To STOP Paying Rent and START Owning Your Own Home"
has already helped dozens of local renters get out from under their landlord's finger, and move into a wonderful home they can truly call their own. You can make this move too by discovering the important steps detailed in this FREE Special Report.
It doesn't matter how long you've been renting, or how insurmountable your financial situation may seem. With the help of this report, it will become suddenly clear to you how you really can save for the down payment and stop wasting thousands of dollars on rent. Order this FREE report NOW and Stop wasting thousands of dollars on Rent.
Contact Us: Manoj Atri, REALTOR® - Toronto GTA Real Estate Agent!

Please visit my Social Media Links, Share Posts & click LIKE to keep in touch!
Subscribe Now to my FREE Hot e-Newsletter:
Re/Max Hallmark Realty Ltd., Brokerage
685 Sheppard Ave E., Suite #401 Toronto, ON M2K 1B6
Office: [416] 494-7653 | Direct: [416] 423-2089 
Cell:  [416] 275-2089 | Fax: [416] 494-0016
Emails: Manoj@ManojAtri.com  | ManojAtri09@gmail.com | AtriManoj@ReMax.net
Websites: ManojAtri.com | ManojAtri.ca | ManojAtri.ReMaxHallmarkRealty.ca
SearchHousesForSale.ca | SearchRealEstateInToronto.ca
 
Testimonials: "What Clients Say"

"A rare find.
Manoj Atri is a rare find. An astute businessman, a consummate professional, a dedicated, tirelessly hardworking individual who makes it his responsibility to understand the needs of each of his clients and find real estate solutions to those needs. I doubt there is anyone on the planet who could try the patience of another as I can; I changed my mind a hundred times, phoned Manoj at all times of the day and night, asked him to take me all over Toronto in search of my dream home – I challenged him, questioned him and nagged him at every turn ­ to which he repeatedly responded with unfailing patience and courtesy.
Buying and selling a home can be an immensely stressful, time-consuming, anxiety-generating event and once again, Manoj responded to my every anxiety with solid information, good humour and sound advice. He never showed any annoyance in having to repeat himself when I asked the same questions over and over. He did not let me purchase the fixer-upper that would have bankrupted me, he did not let me sell my condo before I was ready – Manoj is most considerate of one's comfort levels and continues to go the extra mile even when the rewards are not in immediate sight for him ­ it took nearly a year of my indecision/ research/ investigation with Manoj before I was of a comfort level to sell my home and buy another.
The amount of work he did with me was immense. He left no stone unturned and, with immediacy, he actioned his network of mortgage brokers, house inspectors and other consultants all of which were available 24 hours a day. Manoj always ensured Plan A was sound from all angles, but he also had plans B and C as backup.
He got me a great sellers price on my apartment, showing innovative thinking that brought me the highest profit – way beyond my expectations.
At close to midnight he stood outside in temperatures of minus 18, negotiating passionately for the house of my dreams but he would not let me spend foolish money in making my dream come true – the deal had to be solid and sound or Manoj would not let me go for it. Manoj is a highly skilled, impressively experienced gentleman Real Estate Agent and your house and home will not be in more safer hands. Lisa De Nikolits" 

Thanks, Ms. Lisa De Nikolits
---
"To Manoj, I came to you a few weeks back after seeing your website on-line one afternoon with no intention of purchasing a house this year but just to talk to you about the housing market, prospect of rising interest rates cum housing market trends within the next year or so. My wife Anila and I were saving for a deposit for a purchase next year.
Manoj you gave me your undivided attention as well as your invaluable experience in all aspects of the current market and its potential trends and swings and also informed us that if substantial income was available with good credit no down payment was required. So we endeavored to go on the market hunt for our first home. I can't say enough about how professional you have been. To Anila and me you showed us homes and gave your experience of the market about the homes we were looking, but more than that you gave your personal opinion about them in a very easy and professional way.
We took your advice and are now in a position that is comfortable for Anila and me. At no time did Anila and I feel any pressure to buy or make a decision about buying or not to buy. There was no pressure from you or from many of your contacts in the housing market or mortgage brokers relating to buying a home. After spending time with you Manoj we understand that like a very few you have a personal interest in the profession.
I can't say enough about how we were amazed that you showed no remorse on our decision not to buy or buy again with no pressure from you. Manoj, Anila and I would like to sum this all up and we believe after seeing some of the other brokers and agents during our housing hunt that this market is like a race with all of them racing hard to sell the next home, whereas you Manoj are like the pace car long and far ahead of the race looking after the public people like us vulnerable of being hit by any fast moving racer and can see any potential hazard ahead.
I can only say that should Anila and I choose to sell or buy we will be calling on you. Manoj once again we will tell as many people as we can about how there is honesty and trust in this market if you find the right person like you for the job. Thank you again Manoj and look forward to further endeavors with you. Alan Clarke & Anila Clarke"

Thanks, Mr. Alan Clarke & Ms. Anila Clarke
---
"I thought that looking for a property was an easy task. It didn't take me long to realize it is easier to get into a bad deal than it is to buy a property that will satisfy your needs. It also didn't take me long to figure out that there are many traps out there if we are not careful.
I was overwhelmed by the amount of information that is out there and decided to look for a real estate agent to help me out in the process. On my very first meeting with Manoj, I realized that it was one of the best decisions I had ever made.
Manoj was very willing to explain every single aspect of the Real Estate business, the benefits and pitfalls of the market and most importantly how I could actually save a lot of money in the process. He was also very diligent in showing me the prospect properties following the exact criteria I had given to him on our first meeting.
When I finally made the decision and thought it was a done deal, another big surprise – it takes a lot of paperwork, contacting, verifying, checking and putting a whole bunch of procedures together to ensure the deal is secured and that appropriate due diligence has taken place. I don't think I would have been able to go through this process without the help of a qualified real estate agent. Manoj has done a great job and I certainly advise you to work with him in your next property acquisition. Eric Anastacio"

Thanks, Mr. Eric Ribeiro Anastacio
Regarding Real Estate Agents: Frequently Asked Questions!
Question: What does a real estate agent do and why should I consider working with one?
Answer: A real estate agent is a licensed professional who assists clients in buying, selling, or renting properties. They have in-depth knowledge of the local market, negotiate on behalf of clients, handle paperwork, and provide guidance throughout the real estate transaction process. Working with a real estate agent can save you time, provide expert advice, and increase the chances of a successful transaction.

Question: How do I choose the right real estate agent for my needs?
Answer: Choosing the right real estate agent is crucial. Start by considering their experience, track record, and knowledge of the local market. Look for someone who understands your specific needs, communicates effectively, and has a strong reputation. It's also helpful to interview multiple agents, ask for references, and trust your instincts when making a decision

Question: What services can I expect from a real estate agent when buying or selling a property?
Answer: A real estate agent provides a range of services, including market analysis, property listing (for sellers), property search (for buyers), negotiating offers, coordinating inspections, handling paperwork, and guiding clients through closing. They act as your advocate, providing professional guidance at every step of the process.

Question: How is a real estate agent compensated? Are there any upfront fees?
Answer: Real estate agents are typically compensated through a commission based on the sale price of a property. The commission is usually paid by the seller. As a buyer, you generally don't have to pay upfront fees to the agent, as their commission is usually covered by the seller.

Question: How can a real estate agent help me navigate the complexities of the real estate market?
Answer: Real estate agents have a deep understanding of the local market and current trends. They can provide valuable insights into pricing, market conditions, and neighborhoods. They also help navigate complex legal and contractual aspects, provide access to a network of professionals (such as lenders and inspectors), and offer guidance to ensure a smooth and informed transaction.

Question: Can a real estate agent assist with pricing my property accurately?
Answer: Absolutely. Real estate agents have access to market data and comparative analysis that helps them determine the fair market value of a property. They consider factors such as location, condition, recent sales, and current market conditions to provide an accurate pricing strategy for sellers.

Question: What is the process of working with a real estate agent to find a new home?
Answer: When working with a real estate agent to find a new home, you'll typically start with a consultation to discuss your preferences, budget, and requirements. The agent will search for suitable properties, schedule viewings, and provide guidance based on your needs. Once you find a home you like, the agent will assist with negotiations, inspections, and guide you through the closing process.

Question: How do real estate agents market properties for sale?
Answer: Real estate agents use a variety of marketing strategies to promote properties for sale. This may include listing the property on Multiple Listing Services (MLS), advertising online and offline, utilizing professional photography and virtual tours, conducting open houses, leveraging social media platforms, and networking within the real estate community. The goal is to maximize exposure and attract potential buyers to the property.

Question: Are there any legal considerations I should be aware of when working with a real estate agent?
Answer: While real estate agents are well-versed in legal matters, it's important to be aware of a few key considerations. Ensure that you have a written agreement or contract with your agent that outlines the terms of your working relationship. Familiarize yourself with any disclosure requirements or local regulations related to property transactions. Additionally, consult with legal professionals for specific legal advice to protect your interests during the buying or selling process. 

Question: How can a real estate agent assist me if I'm a first-time homebuyer?
Answer: Real estate agents can be invaluable resources for first-time homebuyers. They can guide you through the entire process, explain terminology, provide advice on financing options, and help you navigate the complexities of purchasing your first home. They will prioritize your needs, educate you on the homebuying process, and provide ongoing support.

Remember, these answers are intended as general guidance and may vary depending on your specific location and real estate regulations. It's always recommended to consult with a professional real estate agent in your area for personalized advice and information tailored to your situation.
My Office Address: 401-685 Sheppard Ave E., Toronto ON M2K 1B6


View Larger Map   Maps Source: Google Maps. (2023).
 

FREE Report & Much More...
Act Now:
"How To STOP Paying Rent and START Owning Your Own Home".

Order this FREE Report NOW and Stop wasting Thousands of Dollars!