How Long Will It Take To Sell Your Greater Toronto Home?
Call / Email NOW to discuss my Toronto Real Estate Excellent Marketing Plan.
Stop Foreclosure! Behind on payments? Don't lose your equity.
We can help! Call Now! [416] 423-2089 / [416] 275-2089.
Read this carefully:
Let's assume your property value is $400,000, but it requires work worth app. $50,000. But you have been trying to sell it even at $330,000 and it's been lying in the market for couple of months and still no takers.
I have a builder who is willing to fix it up for you, and will be sharing a part of the profit with you.
A complete win-win situation.
Call Now [416] 423-2089 / [416] 275-2089) for this great arrangement, faster selling of your property and also profit. It doesn't get any better.
Your Toronto Home Sold Fast & For Top Dollars.
| Sold within: | Percentage of Homes |
| --- | --- |
| 1 Month | 40% |
| 2 Months | 7% |
| 3 Months | 7% |
| 4 Months | 20% |
| 5 Months | 10% |
| 6 Months | 7% |
| 7 Months | 9% |
If your property isn't sold within 30 days, a price adjustment should be made!
Statistics are based on National average of homes sold.
Company Looking for 3 - 4 Homes  
In All Areas For Long Term Lease
Call Now! [416] 423-2089 / [416] 275-2089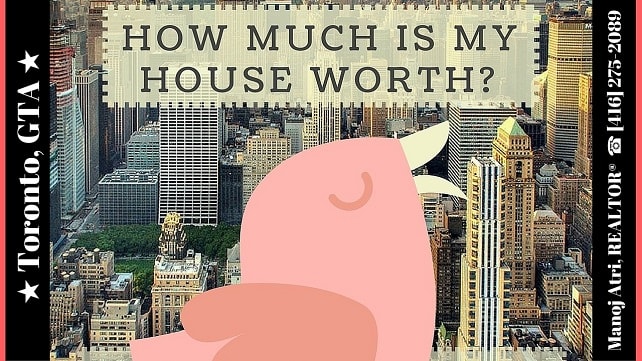 What is the difference between Market Value, Assessed Value, 
Appraisal Value and My House Worth Today?
Market value is the highest price a buyer is willing to pay and 
the seller is willing to accept, taking into consideration that 
the property was fully exposed in the market for a period of time 
and all the parties made a fully informed decision.  
Also making sure the consideration was not an auction,  
power of sale, bank sale or a foreclosure property. 
Assessed value is done by the city to calculate your property taxes.
It various from city to city depending on their various factors. 
Open your property taxes bill and you will find it there.
Your assessed value will go up if the neighbourhood value increases, 
will increase if you have done renovations and increased the value. 
You can always appeal to MPAC if you think they have done 
a wrong assessment. 
Appraisal value is done by banks or lenders for lending you the funds.
It's an evaluation done by professional appraiser for your property.
They take many factors into consideration i.e. location, area, 
imporvements, sold area comparables etc. 
The appraisal value is ususally a very conservative value of your property. 
Lenders or banks generally would like to be safe than sorry. 
How much is my house worth? 
This is a great one. It can be a game changer. 
It starts with you getting a free home evaluation from professionals.
Try to get a minimum of 2 to 3 comparative market analysis.  
Next don't fall into a trap of agents fishing for your listing
and willing to accept all your whims and expectations.
Carefully study the neighbourhood and try to keep your emotions in check. 
Review agent marketing plans and your aim should be to 
get your property maximum exposure to get the most traction.  
Think which listing price will get me multiple offers, 
and an agent who thinks in the same line of action. 
Call me to facilitate you with the best house worth value today.