How to Sell a Home that Didn't Sell?
Why Some Greater Toronto Homes Listed for Sale
Don't Sell and What to Do About It!
Tired of monthly payments?
Our Investor's can help. They can make your payments.
They Buy Houses, Any Area, Any Condition.
Call Now! [416] 423-2089 / [416] 275-2089.
If your home has just come off the market and hasn't sold, don't be discouraged. The reason your home did not sell may have nothing to do with your home or the market. In reality, your home may have been one of the more desirable properties for sale.
So Why Didn't Your Home Sell?
Last year almost half of the homes listed for sale never sold at all, and many sellers found that there was a tremendous amount a homeowner needed to be educated on to sell their home for top dollar in the shortest time period.
Don't risk making the wrong choices and losing both time and money on your investment. Before you hire a real estate agent, know the right questions to ask to save you time and money.
Industry experts have prepared a free special report called
"How to Sell a House that Didn't Sell"
which educates you on the issues involved.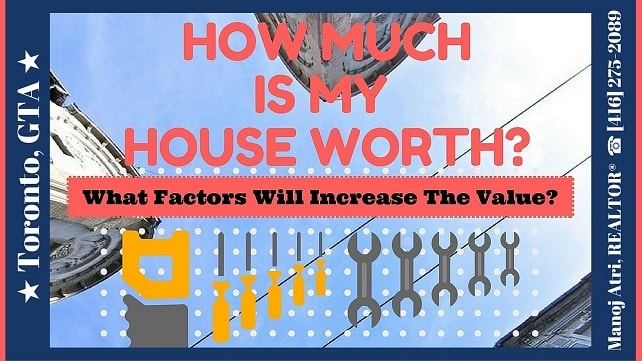 What Factors will Increase the Value of my House?
Factors will greatly vary from property to property.
Let me highlight a few, keeping them general,
mostly from the interactions and my experience with Sellers.

EMOTIONS & EGO:  Keep both under check.
You may have lived in the house for long time and are very emotional about the sale.
Also ponder this - Is your ego getting in the way when negotiating the Sale of your House?
Your ego and emotions both are generally not good for a sale.
A Buyer is looking at a product called Real Estate, it will become a Home later.

Try to go and look at a few open houses and
see what you like and how you go about the purchase,  
then visualize the Buyer as they are also on a similar ground.
Try not to be present at showings, let the Buyers feel out the place on their own.
Clear the clutter, maybe just use one room for all the storage,
if there is no other alternative. 
Remove as much stuff as possible, let the property speak itself to the new owners.
Address this -
Are you creating an emotional attraction of your property for potential home buyers? 
 
LISTING PRICE: Don't be adamant. Give suggestions, be open for a discussion.
You hired a professional to do a job.  Listen to them, you are paying them to do the work.
First, choose a professional carefully,
once you have hired them seek their expertise and plan of action.
Work with someone whom you are comfortable and he / she is very professional.
Listing price should be such that gives maximum traffic and
tremendous traction, visualize multiple offers.
Let Buyers fight out each other for your property, instead of a Buyer haggling with you.

Be very careful of agents giving you a high listing price just to waste your time later.
Get a minimum of two or three FREE Home Evaluations to get a good feel of area prices.
 
RENOVATIONS: It's a Yes and a No answer.
Do renovations if you spend $5,000 and
are able to make minimum between $10,000 - $20,000.
If you spend $5,000 and the return is still $5,000 why take all that trouble.
There are chances you may goof up more than you started with.
The new Buyer may not like all the changes / upgrades / color scheme you have done etc.
Some fixer uppers Sell For More than if they had been renovated.
Renovations are time consuming, daunting and it's not everyone's cup of tea.
The market may change by the time you finish your renovations etc. 

These are just some good pointers, call me for a full discussion.
My background is architecture, I myself buy, fix and sell properties.
I have a great team of tried and tested professionals
to make yours a very smooth sale, fast and for top dollars.
Act Now:

Order this FREE report NOW and make sure your Home Sells the next time you List it For Sale.