OREA Tip Book: Get the Most From Ontario Real Estate Association [OREA] FREE Book on Selling Homes Step by Step Info!
How To Sell Your Home Free OREA Tips Book...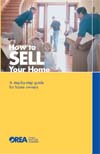 Order the above book "How to Sell Your Home" for FREE from Ontario Real Estate Association by Phone: (416) 445-9910, 1-800-265-OREA (Outside Toronto), or Fax: (416) 445-2644.
1. Deciding to Sell: 
In making the decision to sell your home, it's important to think about your sales objectives: Why are you selling? Have you considered the alternatives? When is the best time to sell? How much money do you expect to receive? What other goals do you hope to achieve through the sale? Identifying these objectives early, with your REALTOR®, will help you make the right choices along the way.
2. When Should you Sell:
Your answer to this question may be, "Right away!" If you've taken a job in another city or you've made an offer to purchase another home, selling your home fast is your main goal. Most people, however, have some flexibility in deciding when they should sell their home.
3. Sell with a Real Estate Agent's Help or Go It Alone?
Have you ever considered repairing your own car? Any one can buy the tools and parts. However, most of us just don't have the knowledge, training, experience or the extensive commitment of time to do the job properly. Besides, there are plenty of experienced professionals to do the work for us. Nevertheless, you may be tempted to do it yourself and "save" the real estate commission. For most of us, this is false economy and makes no more sense than trying to rebuild our car's transmission.
Selling your home is a complex procedure, involving large sums of money, stringent legal requirements and real potential for very costly mistakes!